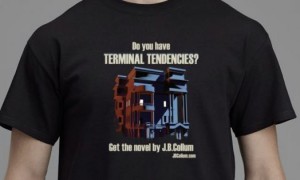 Would anyone be interested in a Terminal Tendencies T-shirt?
I've been toying with the idea of having some T-shirts at book signings, but I couldn't make it happen in time for the one this weekend at The Book Tavern (1-3). However, I may place an order depending on the feedback I get.
I was thinking that maybe I could give a few away, like the first five people in line, and have some available for sale. Another option would be to take orders for those interested. I'm not sure yet. Just let me know what you think.
Thanks,
JB